Rule Dialog - a Questionnaire Builder
Rule Dialog (ORD), a special add-on that allows non-technical users to create web-based questionnaires with complex dynamic interaction logic.
OpenRules 6.4.2 Expands Decision Modeling Capabilities
The Release 6.4.2 introduces new types of decision tables: DecisionTableAssign, DecisionTableIterate, DecisionTableSort
May 20, 2017

This practical guide is available from Amazon. Supporting software: www.DMNinACTION.com
Feb 16, 2017
OpenRules 6.4.1 introduces WHY-Analyzer for Decision Modeling
The Release 6.4.1 introduces a graphical WHY-Analyzer that allows business users to analyze behavior of their DMN-based decision models
Dec 20, 2016
OpenRules Wins 10th International Rule Challenge
OpenRules® "What-If Analyzer for Decision Modeling" won 10th International Rule Challenge Award at RuleML-2016.
July 8, 2016
Forrester Research, Inc.
"OpenRules have the most-aggressive approaches to business-expert authoring and typically requires less developer support than IBM ILOG, FICO Blaze Advisor, and JBoss BRMS."

Market Overview: Business Rules Platforms
Upcoming Events

DecisionCAMP-2017 July 13-14, 2017, London, UK
BBC-2017 Nov. 6-10, 2017, Orlando, FL, USA
Recent Events
RuleML 2016 and DecisionCAMP-2016, July 6-9 2016, New York
BBC 2015: Nov. 2-6, USA
Video "DecisionsFirst Modeler Integration with OpenRules"
Webinar "Creating and Managing Executable Decision Models"
Rule Dialog (ORD™) is a software product built on top of OpenRules® BDMS. It allows non-technical people to develop and maintain web-based questionnaires (dialogs) using only Excel and without a need to learn complex web programming techniques.
A questionnaire is a web application that can be described by a subject matter expert in terms of pages, sections, and different types of questions and answers. Layouts of pages, sections, questions, and complex relationships between them can be expressed in a very natural way using simple and intuitive Excel tables.
ORD™ is included in the standard complete OpenRules® installation.

The following documents describe the product:
Examples of web dialogs created with ORD: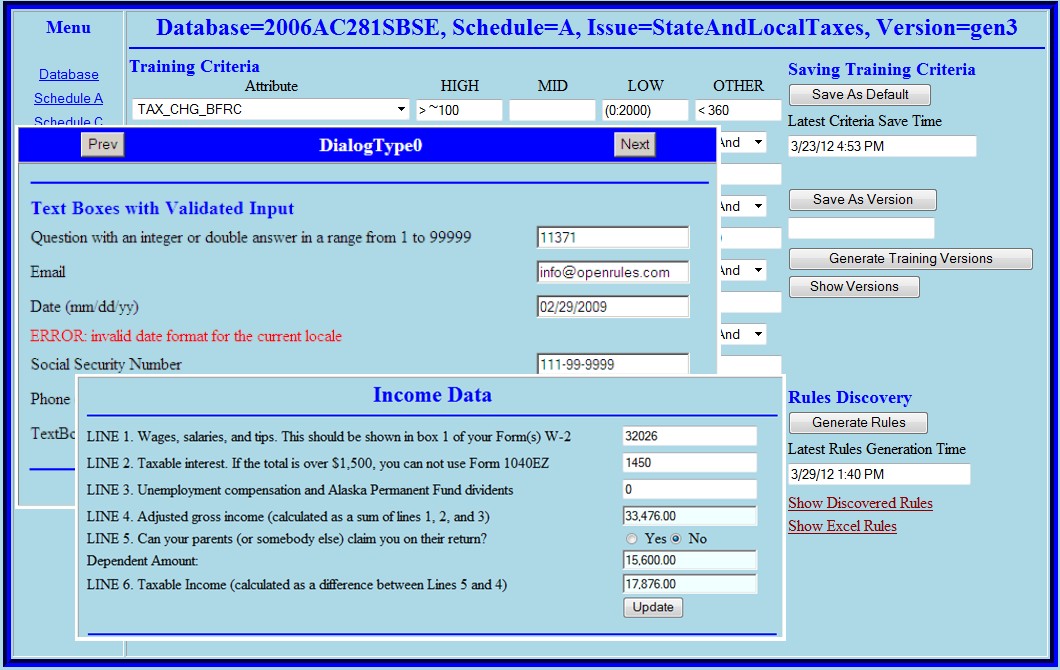 ORD is highly customizable and expandable. Only basic concepts, (dialog, page, section, question, answer) are hard-coded in Java as a part of OpenRules Forms. The business and presentation logic for building complex questionnaires is presented in predefined Excel-based rule templates and layouts available for learning and changes. Thus, ORD is completely open-sourced.
ORD already includes a set of Questionnaire Templates that will be expanded by OpenRules and its customers.
Your suggestions for improvements are very welcome!
Business Rules - Time to Excel