Company
OpenRules, Inc.
OpenRules 6.4.3 Expands Decision Modeling Capabilities
The Release 6.4.3 generates compact execution reports with explanations, allows to import stand-alone decision models, extends operations for arrays and lists.
October 20, 2017

This practical guide is available from Amazon. Supporting software: www.DMNinACTION.com
Feb 16, 2017
WHY-Analyzer for Decision Modeling
You may try OpenRules without any downloads using a graphical WHY-Analyzer that allows business users to analyze behavior of DMN-based decision models.
OpenRules Won 10th International Rule Challenge
OpenRules® "What-If Analyzer for Decision Modeling" won 10th International Rule Challenge Award
Forrester Research, Inc.
"OpenRules have the most-aggressive approaches to business-expert authoring and typically requires less developer support than IBM ILOG, FICO Blaze Advisor, and JBoss BRMS."

Market Overview: Business Rules Platforms
Recent Events

BBC-2017 Nov. 6-10, 2017, Orlando, FL, USA
DecisionCAMP-2017 July 13-14, 2017, London, UK
Webinar "Creating and Managing Executable Decision Models"

OpenRules, Inc. has developed, enhanced, and maintains the Open Source Business Decision Management System commonly known as OpenRules®. OpenRules, Inc. also provides technical support, training and consulting services related to the OpenRules® product.
OpenRules, Inc. is a NJ-based corporation founded by Dr. Jacob Feldman in February 2003. The company's original name "Intelligent ChoicePoint, Inc." was changed to "OpenRules, Inc." in December 2003 when the OpenRules® product was made publicly available for the first time. Over the years OpenRules has become one of the most popular Business Rules products. Every day OpenRules helps customers worldwide to handle millions of transactions in real-world production environments for large corporations, government agencies, hospitals, and online businesses - see a list of selected Customers.
OpenRules, Inc. makes its open source product available to any commercial or non-commercial customer and provides reliable technical support. In addition, OpenRules specialists provide consulting services to US and international businesses. We are proud for being known as experts in developing practical decision support applications using:
Business Rules Approach
Constraint and Linear Programming
Machine Learning Techniques
SOA Architectures with Business Rules, Predictive Analytics and Optimization components integrated into Business Process Management infrastructures.
We do not promise, we deliver! If you are currently deciding how to add business rules, predictive analytics, and/or optimization components to your existing or new information system or how to improve already developed rules-based systems, contact us. Upon request we will provide you with references from major international institutions that successfully use OpenRules software and services for their mission-critical applications.
OpenRules, Inc. is an official US Government Contractor with key employees having requisite security clearances. OpenRules has developed decision support systems for large government agencies such as the Internal Revenue Service (IRS). To learn more please click here and here.
We are committed to always providing you with quality, security and state-of-the-art functionality.
If you have any questions regarding OpenRules, Inc., please contact us at info@openrules.com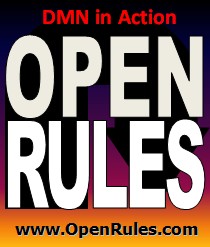 Google+
Business Rules - Time to Excel