Business Rules and Decision Management System
=
Open Source =

OpenRules® is a general purpose Business Rules and Decision Management System available as an Open Source product. It allows subject matter experts and software developers to create, test, execute, and maintain enterprise-class decision support applications.
What Business Analysts Can Do:

* Define Complex Business Decisions
* Represent Decision Tables
* Define Business Glossaries
* Create and Execute Test Cases
* Efficiently Execute Business Decisions
What OpenRules Can Do: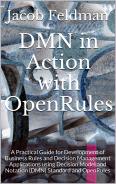 * Rules-based development
* Simple Java or .NET integration
* Rules-based web applications
* Predictive analytics
* Constraint solving, optimization
OpenRules 6.4.3 Expands Decision Modeling Capabilities
The Release 6.4.3 generates compact execution reports with explanations, allows to import stand-alone decision models, extends operations for arrays and lists.
October 20, 2017

This practical guide is available from Amazon. Supporting software: www.DMNinACTION.com
Feb 16, 2017
WHY-Analyzer for Decision Modeling
You may try OpenRules without any downloads using a graphical WHY-Analyzer that allows business users to analyze behavior of DMN-based decision models.
OpenRules Won 10th International Rule Challenge
OpenRules® "What-If Analyzer for Decision Modeling" won 10th International Rule Challenge Award
Forrester Research, Inc.
"OpenRules have the most-aggressive approaches to business-expert authoring and typically requires less developer support than IBM ILOG, FICO Blaze Advisor, and JBoss BRMS."

Market Overview: Business Rules Platforms
Recent Events

BBC-2017 Nov. 6-10, 2017, Orlando, FL, USA
DecisionCAMP-2017 July 13-14, 2017, London, UK
Webinar "Creating and Managing Executable Decision Models"
Major Functional Components (click on any button to learn more about the component)
Enterprise-class Repository Maintained by Business Analysts with Excel® or Google Docs®

Executing Decision Models in a highly efficient and scalable way

Discovering Rules
Predictive Analytics

Constraint Satisfaction
Solving Optimization Problems

Developing dynamic rules-based Web Questionnaires

Event Processing
Connecting the Dots
OpenRules, Inc. offers a general purpose Business Rules and Decision Management System (BRDMS) that allows you to configure your own decision management system using the above components and commonly used software. OpenRules® comes with a methodology and proven open source tools that enable business analysts to create an enterprise-level Business Rules Repository. Such a repository may be used across an enterprise as a foundation for various decision services with complex business logic.
OpenRules® customers create and maintain their rule repositories using familiar graphical interfaces provided by MS Excel® or OpenOffice®. Being integrated with Google Docs®, OpenRules® supports collaborative rules management. The use of standard tools gives customers easy access to very powerful features including editing, searching, and integration capabilities.
OpenRules® projects may be deployed as regular Java programs, as web services, or on cloud. They can be naturally integrated into existing software infrastructures based on Java or .NET. A very detailed documentation and multiple examples are provided. 
OpenRules® makes rules-based systems not only less expensive, but more importantly, easier to develop, and manage, and more sustainable. From multi-billion corporations to children's hospitals and innovative start-ups, OpenRules customers capitalize on their familiarity with popular tools such as MS Excel, Google Docs, and Eclipse IDE to effectively minimize their learning curve.
OpenRules, Inc. helps its customers to meet the increasing demand for very complex rule bases and high-transaction volumes, with simpler, more cost-effective solutions. OpenRules, Inc. stands behind all provided Open Source tools with premium Technical Support and related Consulting and Training Services.
Awards: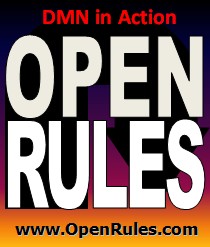 Business Rules - Time to Excel